Féau Boiseries creates extraordinary interiors for the dream homes of the wealthiest people in the world

Imagine a private collection of thousands of remarkable, iconic wood-paneling decors in a 1,800m2 workshop in the middle of Paris. Welcome to Féau Boiseries. Founded in 1875, the firm draws inspiration from its historical archives to create, produce, and install exceptional reproductions in the dream homes of the very wealthy. Their creations have traveled to the four corners of the world. Féau Boiseries notably participated in the interior design of a 38,000m2 private Japanese palace near Tokyo.
An exclusive interview between Christian Razel, founder of Imerse, and Guillaume Féau, president of Féau Boiseries and a member of the Comité Colbert since 2021.
Christian Razel : What kind of work does Féau Boiseries do?
Guillaume Féau: Our firm does not do much restoration of historic monuments, nor do we make many sales of antique wood paneling. We specialize in very high-end copies of grand historical decors. Our clients include renowned interior designers and architects managing extraordinary projects, such as Anne Getty, Michael S. Smith, and Pierre Yovanovitch. They order ensembles of exceptional custom-made decors for their super-rich clients.
The golden age: Our firm experienced its first golden age between 1875 and 1914, creating decors for the beautiful residences of prominent financier and industrialist families during the belle époque. For instance, the 6,000m2 Palais Rose on Avenue Foch, which belonged to Comte Boni de Castellane, the Villa Ephrussi de Rothschild at Saint-Jean-Cap-Ferrat, and Henry Ford's town house.

Archival photograph of the Rue Laugier workshop taken during the interwar period
Second period of prosperity: Since I took over the family business with my sister Angélique in 1995, our target market has undergone a new period of strong growth. Billionaires are increasingly availing of the services of esteemed designers who have brought grand classic decors into line with current tastes, such as Jacques Garcia and Alberto Pinto. Property owners want to indulge themselves. This clientele is totally removed from the general context.
Today, Féau Boiseries is globally renowned in the world of high-end interior design.
What is Féau Boiseries' greatest asset, your historical archives?
Our firm has been collecting exceptional decors for over 150 years. Some are museum-worthy. They represent a genuine testament to the lavish way of life of the kings of France, those in the upper echelons of power, but also European high society from the end of the seventeenth century to the 1930s, and the "café society" period.
Remarkable decors from the seventeenth century to 1970: These decors are kept in storage in the provinces and in Paris. In Paris, they are displayed in a series of rooms in our Rue Laugier workshop, the most majestic of which has an Eiffel glass ceiling recovered from the 1867 World Exposition of Art and Industry! These archives are indexed and classified. They contain, among other things, more than 3,000 rubber molds, thousands of fragments of decors, old drawings, tracings, models from the seventeenth century to the twentieth century, scale models, such as that of Mademoiselle Dervieux's bathroom, designed by the architect Bélanger around 1780, and 350 complete sets of decors from the seventeenth century to 1970. All periods are represented: Regency, Rococo, Neoclassical, Empire, the twentieth century, including Art Deco, and there is a particular emphasis on the "Grand Siècle."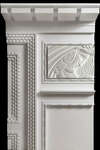 Féau Boiseries—Art Deco piece by Jacques-Emile Ruhlmann
Major architects: Sets of several pieces by the same architect have been formed over the course of time, such that Féau Boiseries has become a specialist in the work of Claude-Nicolas Ledoux (1736–1806), François-Joseph Bélanger (1744–1818), having made 280 drawings of the interiors he decorated and the buildings he constructed or designed, including the Bagatelle pavilion and the Bourse de Commerce in Paris, and Charles Percier (1764–1838) and Pierre François Léonard Fontaine (1762–1853), Napoleon Bonaparte's architects who notably designed the Château de Malmaison, the National Assembly, and the Galerie d'Orléans at the Palais-Royal.
The final touch to this collection is the room dedicated to marble fireplaces, old mercury mirrors, superb fountains, and antique or copied parquet floors.
Our firm can thus present clients with a comprehensive offer of unique decors to consummate the magic of a space.
The purchase of panels: Our firm is always on the lookout for authentic panels to purchase from private individuals, but also from art dealers, auction houses, and specialists who recycle the waste from construction sites. I have patiently made several million euros' worth of purchases over the course of the last 25 years thanks to the profits I have generated for the firm with a view to enriching our Gallery of Decors.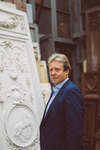 Partnership: A partnership was formed with the Galerie Kugel, located in a sublime hôtel particulier (town house) on Quai Anatole France in Paris. These major dealers, Alexis and Nicolas, have a team of art historians. Féau Boiseries sometimes relies on their research and publications to enhance our clients' knowledge of the history of our original paneling and the illustrious owners.
Sale made to the Louvre Abu Dhabi: In a truly exceptional sale, we sold paneling by Emile-Jacques Ruhlmann, commissioned by Lord Rothermere in 1925, to the Louvre Abu Dhabi. This transaction was made as it allowed the completion of an exceptional ensemble in the museum's permanent collection.
As you will have realized, our collection is our lifeblood. The sale of paneling is rather rare.
What have been your recent achievements?
Our firm achieved a turnover of €15 million in 2022, compared to €1.5 million in 1995.
Each year, 70 to 80 custom-made decors are created and produced in our workshops. 60% of our deliveries are for modern projects. 28 projects are underway across the world, from the West Coast of the United States, through Australia and Hong Kong, to Japan.
Reproductions are made in the same spirit as historic pieces. Our clients are increasingly looking for pared-down decors, with ornamentation that has been slightly simplified. These are sometimes painted white in order to be combined with contemporary artworks, such as works by Jean-Michel Basquiat or Andy Warhol. Everything must contribute to the luxurious harmony of the space.
A few recent examples of our achievements…
38,000m2 palace near Tokyo: One of our Japanese clients recently ordered a copy of an eighteenth-century décor in molded French oak with ornamentation for a living room in a 38,000m2 private house near Tokyo.
3,800m2 town house in New York: Féau Boiseries created two reproductions inspired by an artwork produced by Bélanger in 1780, the preparatory drawings for which are in the collections of the Louvre Museum. The theme of the panels of original wallpaper mounted on canvas is based on the Arabesque style. Several splendid doors were installed in a 3,800m2 town house located between Fifth Avenue and Madison Avenue in New York. They were partially redesigned and painted in a satin lacquer with a slight sheen, with a horizontal crack every 3cm. The lighting comes from the floor. The rest of the Louis XVI paneling is crowned by matte white cornices from the historic Christian Dior shop.
This blend of modernity and classical texture and proportions gives rise to a singular magic.
2,000m2 hôtel particulier in Paris: Five panels created for the Parisian hôtel particulier (town house) of Samuel-Jacques Bernard (1686–1753), state councilor under Louis XV and the son of Samuel Bernard, Louis XIV's major financier, were reinterpreted for an Asian client by a renowned contemporary French designer. These panels will be reproduced in sculpted, full-depth blackened oak. Three paintings by Francis Bacon will be hung on these panels, which will be installed in a hôtel particulier near the Seine.
Our design office reinterprets grand decors to create new ones on the basis of a detail on a panel. For example, the eighteenth-century Italian decor with bamboo leaves that was ordered for a palace on the French Riviera. The bamboo served as the basis for the creation of the decor for an entire room.
What kind of relationship do you have with art workshops?
Féau Boiseries has three workshops of its own and has formed partnerships with a dozen artisanal art workshops throughout the region.
Our firm has developed an original strategy that affords us flexibility and a certain level of control over production.
Our firm owns the properties in which most of the workshops are situated.
An association based on capital is put in place in relation to the management of the partner workshop. Thus, Féau Boiseries is a major stockholder, with the largest share of capital, the majority being divided between the members of the board of directors. Financial assistance is provided for the acquisition of machinery. The customer interface and the order book are managed by us. In this way, our partner's turnover visibly benefits and they also benefit from technical support from our Parisian design office.
The workshop is responsible for production, the quality of the workmanship, the procurement of wood, and the training of craftspeople.
Partners are hired to work on gilding, patinas, painting, and sculptures. An average of 120 people work in the workshops, with peaks of 200 people.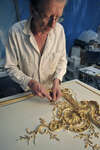 The bespoke expertise of craftspeople, cabinetmakers, ornamental sculptors, painters, and gilders
Who does the installation?
In situ installation: Our decors are exclusively manufactured in our workshops in France and sent from there to the project sites. This "Made in France" model is a huge asset as it allows for a concentration of expertise in our workshops.
In the vast majority of cases, in situ installation is carried out by our internal team on the basis of very detailed installation plans. Our decors are assembled without fixings (i.e. without screws or nails) as an interlocking series, in accordance with the traditional seventeenth-century mortise and tenon technique. An inspection of the paneling is carried out one year later, once the oak wood has stabilized, so any possible cracks can be touched up.

The lobby of the Rue Laugier workshop
Why did you become a member of the Comité Colbert?
We are delighted to have become a member, in 2021, of this wonderful association that represents the interests of French luxury across the world.
We want to take part in meetings to exchange ideas and thoughts with all the other firms, as well as taking part in events organized by the Comité Colbert to promote our expertise and the reputation of French decorative arts internationally.

Féau Boiseries—the finished entrance hall of a private residence in Ville d'Avray—reproduction of paneling representing Africa, inspired by the eighteenth-century paneling "The Four Continents" by Claude-Nicolas Ledoux
What is the next step in doubling Féau Boiseries' turnover?
Direct international establishment: New York: The opening of a Féau Boiseries showroom with a design office in Manhattan is planned for July 2024. It will be set up in a building belonging to the Cohen brothers [MG2] between 46th Street and Lexington Avenue. It will be decorated with historic paneling, notably paneling by Ledoux and Jean Michel Franck. This involves an investment of more than €1 million. The operating costs are in the order of several hundred thousand euros per year.
This establishment is strategic as it will support our American architects working on a dozen ongoing projects, five of which are in New York, two of which are in Palm Beach, and three of which are in California.
Hong Kong: In the longer term, we could see ourselves setting up in Hong Kong. We took part in the design of the interiors of two 3,000m2 houses located on Baker Road, near Victoria Peak. This branch would allow us to more closely monitor our ongoing projects in Thailand, Australia, Japan, and Brunei, as well as our future development in China.
We would also like to explore new countries, such as Nigeria.
Recruitment: The firm will need to develop structurally by recruiting new collaborators: a development director, salespeople, and new staff for our design office.
Ensuring continued turnover levels: Our work should be even more sustainable on account of the loyalty of our 30 partner architects and interior designers, who each bring in an average of three to four clients per year. This loyalty was progressively gained thanks to the exceptional quality of our reproductions and our ability to respect budgets, finish projects on schedule, and install them anywhere in the world.
Houses valued at more than a billion euros: The development of our firm has been based on a number of exceptional commercial successes: orders for a single project worth over €30 million have been made four times over the course of the last 25 years. Such projects are now likely to come our way more often.
Our exceptional decors accentuate houses' magnificent character. As well as enjoying our decors, property owners are adding value to their real estate holdings.
One of our clients who had invested €250 million in his house recently refused a hard offer of over €1 billion.
Similar offers could be made in due course for other properties where we have been involved in the interior design. Among our billionaire clients, word of mouth is very effective.

Féau workshop (c) Robert Polidori

Cabinet of curiosities—Féau Boiseries workshop on Rue Laugier in Paris