The Clarence: French Art de Vivre in All Its Glory
His Royal Highness Prince Robert of Luxembourg has created an immersive experience of the unique realm of his large Bordeaux estate within a magnificent, luxurious private mansion in Paris by establishing therein Le Clarence restaurant. As a devotee of the values of French art de vivre and its ambassadors, I found myself drawn to this prestigious but welcoming establishment in the Triangle d'Or district of Paris, where I enjoyed a memorable lunch.
Upon entering the Hôtel Dillon, built in 1884, one is immediately charmed by its dedication to French excellence. The stairs leading to the bel étage allow one to discover the unique realm created by the owner: the splendor of this private mansion, the exceptional cuisine by the Michelin-star chef Christophe Pelé, authentic hospitality, and a wine cellar that would make your head spin.
This setting pays homage to fine art, a passion for fine wines, and gourmet French dining, which has been included on UNESCO's list of the Intangible Cultural Heritage of Humanity.

Christian Razel of Imerse conducts an exclusive interview with Christophe Pelé, Deputy Managing Director and Executive Chef, and Cédric Servain, Director of Le Clarence, the Hôtel Dillon's two-Michelin-starred restaurant. 

From left to right: Cédric Servain, Christian Razel and Christophe Pelé
Christian Razel: What is unique about this place?
Cédric Servain: His Royal Highness Prince Robert of Luxembourg is president of the family company that has owned the Clarence Dillon Estate for 86 years. This estate is comprised of three properties, including the legendary Château Haut-Brion, whose wine was classified as a premier cru classé of Graves in 1855.
In 2013, the prince acquired the Hôtel Dillon, which is near the Champs-Elysées and the Grand Palais, with a view to making it the luxurious Parisian residence associated with his Bordeaux estate. Over the course of four years, the prince restored and renovated the building in accordance with professional standards, creating Le Clarence restaurant, a bar, and private rooms, in order to return it to its former glory. The Grand Salon on the third floor is an identical reproduction of the one at the Château Haut-Brion. He also gave it extra character and created an immersive experience through the décor, collector's items, and antique furnishings. This building is endowed with vaulted wine cellars full of treasures: a wonderful selection of exclusively French wines and spirits, including, of course, rare and precious wines from the estate.
As an enthusiastic champion of French art de vivre and Bordeaux wines, the prince quickly gave this place an authentic, lived-in feel.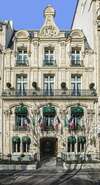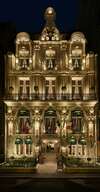 What does French art de vivre mean to you?

Cédric Servain: It's our heritage. It's a kind of magic, an eye for detail, the art of hospitality.
Chef Christophe Pelé: We are steeped in French art de vivre. It's our culture: beauty, artisanship, comfort, well-being. Food is very important. The prince is very attached to the culinary arts. He chose the very best producers for the food served in Le Clarence restaurant, which represents the distillation of luxury and refinement.
In the oven, the food should sing. The saucepans should dance. I should be able to hear the sound of roasting when I open the oven. The dishes are prepared with a gourmet sauce; they should have an appealing smell and sound, and they should look appealing too.
As the family motto goes: "Cultivate tradition but never stop innovating."
Cédric Servain: Tradition is cultivated in this classic, traditional building, and it is combined with Chef Christophe Pelé's innovative and novel "twist" on food. That is what our guests come looking for at Le Clarence, where they can feel at home, enjoy the luxurious residence, and have an immersive experience.

What is this culinary "twist"?

Christophe Pelé: It's the harmonious difference between this place and the food that is served here. I cook to order, with a lot of spontaneity and emotion. I am not constrained by a dish or a menu. We offer spontaneous dishes full of momentum, energy, and serenity. No sooner has the produce arrived than the idea for a dish comes to me. It's wonderful to be able to invent a story based on the produce every day, all the while ensuring that the food is quickly and precisely prepared for our guests.
What kind of relationship do you have with your suppliers?
Christophe Pelé: I'm in direct contact with my suppliers, whom I have known for a very long time. We have developed a certain trust in relation to the responsible production of these ingredients. This goes both ways and we heed the seasons, nature, and the day-to-day reality associated with these. Our suppliers really play an advisory and supportive role. The ingredients must be good and deserving of respect.
Christophe Pelé: I thrive on reading and especially going to eat at other restaurants. I accord great importance to the customer experience and to the new feelings that food can inspire. My goal is to capture these feelings so they can later be released and truly experienced in my food.
Given the historic links with the estate, what place does wine have in relation to your food?
Christophe Pelé: Gaetan Lacoste, the head sommelier at Le Clarence, tries all of our dishes to capture their smell and enter into the immersive realm of the dish, which is not fixed. On the basis of his experience and his range of tastes, Gaetan speaks about the dish with our guests to explain the link between the dish and the wine. Of course, he takes what the customer wants into consideration. There is no perfect match.
How would you describe the experience that you offer your guests?
Christophe Pelé: I don't want to take our guests hostage. I want to give them a choice, without falling into the trap of a single set menu. Since I cook spontaneously, I can offer them a series of tasters along with more elaborate dishes, served at the right moment and accompanied by wine that is the right temperature.
Cédric Servain: Our role is essential. We are the link between exceptional food and our guests.
We must transmit the chef's feelings as faithfully as possible and create a genuine connection with our guests. Service in the restaurant must be smooth to ensure that we offer guests an unforgettable, luxurious experience. This is possible thanks to our team of 30 people, for a total capacity of 30 covers per sitting.
Add to this our elegant table setting and the stunning view of the Jardins des Champs Elysées, and it becomes a magical, immersive experience.

Haute French cuisine.
Of exceptional quality. One of the best spots near our luxurious private residences. Like Le Clarence, at iMERSE, we strive to elevate French art de vivre to new heights.

LE CLARENCE: PRACTICAL INFORMATION
This article, written by Forbes contributor Christian Razel, was first published in French on the Forbes France website